Last Saturday, I turned on the local classical station and happened upon a new recording of Verdi's evergreen masterpiece, FALSTAFF. John Eliot Gardiner fronts his original instruments group -— Orchestre Revolutionnaire et Romantique -- for this new Philips recording. Either I missed the announcer's discussion of the orchestra or wasn't paying attention. But I didn't notice much in the way of difference in sound. Then again, I'm not one to pay much attention to original instruments. Since I'm always in the mood to hear this superb ensemble work, I cranked up the volume and went about my business, pausing whenever something grabbed my attention such as Ford's Monologue, or the opening scene of the Merry Wives, or Sir John's honor monologue. Gardiner is a nearly ideal conductor of this work--fleet, rhythmically alive, and attentive to every detail of the score. He did slow down for Nanetta's Act III aria, but that's fine in this gorgeous nocturnal moment. Gardiner, like most conductors these days, is hit and miss with casting, but whoever advised him on this cast, or if the decision was his alone, has tin ears?
Was this recording originally supposed to star Bryn Terfel? Jean-Philippe Lafont, a French baritone, sings this role in many of the world's top opera houses. But his name doesn't sell records (though Gardiner is one of the few conductors around these days who seems to have some record sales clout). He may be lively with the words and wonderful on stage, but on a recording, his Sir John is vocally worn and unsteady. This casting mistake pretty much puts this recording out of the competition. Lafont is also surrounded by a less than ideal cast. Hellevi Martinpelto's Alice sounds like a Nordic Ricciarelli (unsteady with high notes that are struck piano and swelled—which becomes an irritating vocal mannerism). Anthony Michaels-Moore has had plenty of time by now to prove that he is the Verdi baritone lots of people have been saying he is. Well, he's not. He is steady and blusters when he should, but Panerai, Merrill, and others have done this with far more vocal allure and style. Rebecca Evans chirps prettily, but again, Freni, Moffo, and others have been memorable and you've got to have a long and gleaming top for the ensemble lines in Act II. She's pretty in a generalized way—another role that has become the province of soubrettes. Antonello Palombi's Fenton is good enough, so why doesn't anything he does here stand out in my memory? Sarah Mingardo's light-weight, but darkly colored mezzo is all wrong for Quickly, and surely there is more humor to the woman than Mingardo or Gardiner allow her here. I'm not suggesting she provide the over-the-top (but wonderful) vocal mugging of a Barbieri or Simionato, or even Horne (on the equally poor Davis recording on BMG). But if you're going to reinvent the role, you ought to have more up your sleeve than restraint.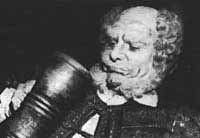 One of my favorite works, FALSTAFF has been really unlucky in digital CD era. The earliest recordings are still the best. I don't have the Toscanini recording, but I couldn't imagine life without Karajan I with Gobbi, Schwartzkopf, Moffo, Panerai, Merriman,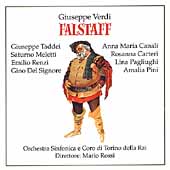 and the adorable Barbieri. Solti's 60s set has a really lavish cast, which survives his thumping conducting. Sir Geraint Evans has everything but a truly memorable timbre as Falstaff, yet I love him on this set. The recently reissued Cetra set boasts my favorite Falstaff -- the incomparable Giuseppe Taddei. He's surrounded a superb cast of Italians who clearly love singing the language, and deliver a thrilling ensemble performance of wit and comic inventiveness (and for $10 you owe it to yourselves to get this one while it lasts).
Karajan II was a disappointment, though its cast of vets knew what they were doing. The Davis recording sailed in and out of my collection fast. The wildly overpraised and poker-faced Giulini recording's success has mystified me since the day it was issued. Bruson is a vocally correct but dull protagonist, and his supporting cast is devoid of sparkle or genuine wit in this recording -- Giulini's fault, I fear. I've never heard the Muti recording -- its cast held no appeal to me, and Muti is entirely too cerebral and serious for comedic opera (I hope he doesn't have ambitions to make a recording of L'ELISIR D'AMORE).
I've only heard Bernstein's recording once--and that was a long time ago. In those days, I was allergic to Fischer-Dieskau (thank goodness that phase of pompous high-mindedness is over!). I remember Regina Resnik's overly-fruity singing of Quickly. Ilva Ligabue had already done Alice well for Solti, but I can no longer remember the rest of the cast, nor Bernstein's conducting. It has, however, held its place in the catalog for a long time now.
Maybe Levine and his forces will be able to transfer their upcoming reconsidered Zefirelli production from the Met this year (though Christine Goerke should be the Alice Ford!) into the studios. His video is a souvenir of a rollicking series of performances that worked in the theater. However, Paul Plishka, Mirella Freni, and Marilyn Horne were well past their firmest singing days. Pola and Lopardo did well enough, and Susan Graham's coltish Meg Page doesn't make much of an impact (not her fault -- the role is thankless). The one genuinely great performance is Barbara Bonney's incandescent Nanetta, which deserves a place right next to Mirella Freni and Anna Moffo.
Verdi deserves better in this the centennial year of his death.
-- BryceNYC