I awoke on Sunday August 1, 1999 to the prospect of a day without a Wagner Opera. I sobbed convulsively for a good half hour until, righting a small picture frame which I had knocked over in the night, I found myself staring at a portrait of John Wayne, which travels everywhere with me. The sobbing ceased. I drew myself up to my full height, looked myself in the mirror and decided to face the world.
A wonderful sunny morning in Bayreuth, church bells ringing. Breakfast outdoors.
At one p.m up drove Wolf and Eugene, from a one donkey Dorf near Frankfurt, and as they were driving a Japanese car, they were requested to park around the back of the hotel. Wolf, a doctor, was making a house-call on Carol, his patient during our stay in Germany. Thanks to him she was able to attend the performances despite her illness. Wolf is a contributor to several U.S. opera boards and had last been seen at the San Francisco Ring that past June.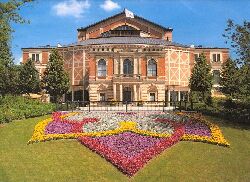 He came bearing gifts in the form of taped copies of the performances we had attended in Bayreuth, gleaned from German Radio. As it was his first visit to Bayreuth, we took a drive--first to the Festspielhaus and then to Wahnfried. After that it was time to lunch but, as it was 4pm, our beloved Weihenstephan was closed and we had to make do with a place that served mediocre Italian food a few doors down. However, the outdoor setting and stellar company made for a pleasant interlude.
Around 6pm we had to go our separate ways. We had, in a Jamboree Committee meeting, decided to take the train to Nuremburg. We travelled first class which simply meant the car was less crowded. The train did leave on time and was immaculately clean. The train made just a few stops during the one hour trip and 'ere long we were in the sprawl of Nuremburg.
The view from the steps of the Bahnhof was exactly as I recalled from my first visit there back in 1972, but this time it was swarming with people. We crossed the wide street, our lives barely intact as we dodged the swirling traffic, and made our way down K÷nigstrasse. I stopped briefly to point out the little cul-de-sac I had lived in. The cinema where my lodgings were was no more: there was scaffolding around it.
After the peaceful leafy streets of Bayreuth, Nuremburg was a shock to the system. It was crowded. Discarded newspapers fluttered in the street. There was cacophony. We did our best to avoid the crowds by making detours, and crossed the river Pegnitz by a tranquil bridge, pausing to admire willow trees kissing the water. A steep uphill climb led us to an old fortress whose name I don't recall, but this offered stunning panoramas of the city far below.
The sidewalks were a sea of people and so at the base of this fortress we elected to take a cab to avoid the throng. Our cab driver took us on a short tour, stopping here and there to take photographs, and earning himself a handsome tip. We were relieved to leave the city and head back to sleepy Bayreuth as the sun set.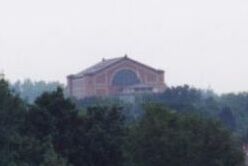 We dined at the hotel for our last meal together. P13 was flying out at dawn and Carol and I had a drive to Frankfurt in the morning. Our friendly waiter for the week, Herr Hemmel, a young Tunisian, amused us with sleight-of-hand tricks between courses.
At 5.30am we were out of bed and packing.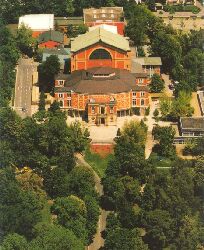 After a quick stop at a store downtown for tee shirts, we joined the highway and pointed the car toward Bamberg en route to Frankfurt at high speed. One stop was made along the way, at Wurzburg, to take pictures of the town and to refresh ourselves.
Frankfurt airport was a hubbub of people, most of whom had not just been to Bayreuth. I had. I can recall very little of the nine hour flight back to Chicago: my head was still aswim with memories of the week gone by and it has been ever since.
It was THE most wonderful week in a life rich in wonderful weeks and literally a "dream come true" for me. Someday (like tomorrow!) I would like to return.
With thanks to my travelling companions for the non-stop laughter.
To be not continued......
˘┐˘
---