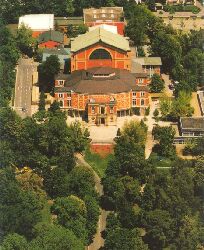 July 26th is not only the anniversary day of the first performance of the masterpiece that is Parsifal, but is, and in 1999 was, the birthday of Carol von Chicago who was realising a long-held dream of sitting in the Festspielhaus. Her birthday treat was a performance of the Flying Dutchman. That would happen later in the day, at 6pm in fact.
While she stayed in the hotel feeling under the weather, P13 and I took a shopping expedition to buy her some presents in a wonderfully stocked music store called " Die Schallplatte" down a narrow cobbled street. Therein they have a mighty Wagner selection including Met broadcast CDs not available in the USA.
I bought her a live Tristan with Vickers and Nilsson from Teatro Colon (1971) conducted by Horst Stein and P bought her an old Lohengrin from the Met (1940) featuring Melchior (yawn) Thorborg, Rethberg, and Warren, conducted by Leinsdorf. A poster announced that Cheryl Studer would be signing autographs next day.
Back at the hotel a plan was formed by a meeting of the Jamboree committee and that plan was to visit Haus Wahnfried and there take the tour. So it was that I came to walk through the front door and into the house where the Ring was finished and rehearsed and Parsifal was written. It is a big house with many rooms. One doesn't get to see the bathrooms or kitchen and there aren't enough furniture clues to tell you what each room was used for, as the house was bombed in 1945 during what was obviously a strategic air raid lest Hitler use Wagner's bedside table to annihilate the Allies.
One can sit among the row of chairs in his salon, lined with bookcases, and stare ahead toward the bay window overlooking the nice garden, and in doing so, gaze upon a black piano and imagine him sitting there playing it.
Upstairs and down are many photographs which I had previously only seen in books. Here were original Ring tickets from 1876. In one sombre room was his death mask and behind glass, the sofa he had died upon in Venice, while cradled in Cosima's arms. I took a deep breath and adjourned to the balcony overlooking the garden where he is laid to rest and thought a silent "thank you" to him for all he has given me through his music.
At 5pm I drove Carol to her birthday celebration. She was dressed in a stunning black evening gown while P13 was in shorts and a Florida tan and I was dressed in black casual attire. An hour before the show people in evening dress were milling around at the front of the theatre or eating dinner in the restaurant or were strolling amid the gardens.The vast majority were German.
At 5.45 on the balcony of the Festspielhaus came our first sighting of the 8 horn players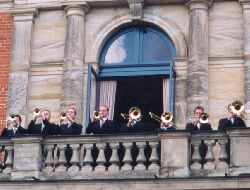 who call the audience to their seats with snappy riffs from the act about to follow. My hair stood on end! A wonderful sound...no blats and squawks, just a tight harmony from men worth their salt, up to the task of making us check our watches. They give three warnings spaced 5 minutes apart and gather a crowd. This began in 1876.
I videotaped Carol as she walked into the theatre alone to hear The Flying Dutchman, her face bathed in an ecstatic glow of anticipation. We had other plans.....a big German dinner with some friends in a restaurant downtown, a 15 minute walk away.
To be continued......
ô¿ô
---